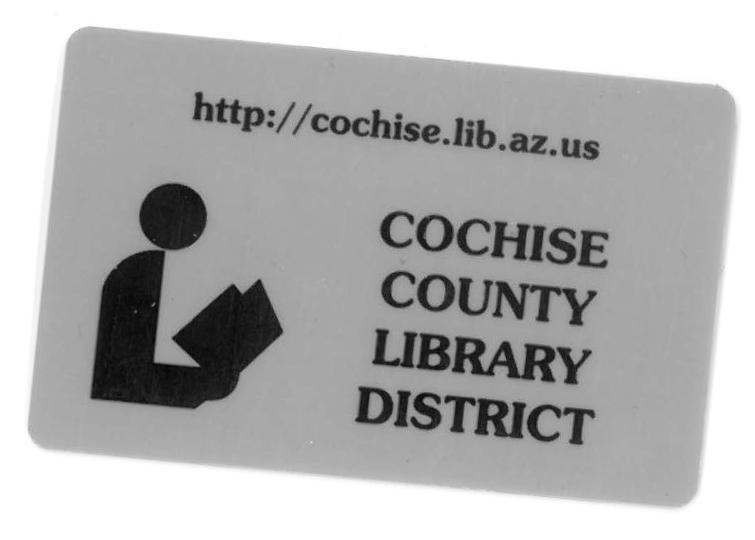 Login with your library card to access these tools!
Access these research tools using your library card from any public library in Cochise County. You will find your card number and PIN on the back of the card.
Don't have a card? Contact your library!
---
---
---
ChiltonLibrary.com
More than 45 years of information with step-by-step procedures, engine, chassis, electrical, drive train, routine maintenance, suspension work and more.
---
Books & Authors
Expert book reviews, recommendations and author biographies.
Literature Resource Center
Provides access to bibliographical and biographical information, literary criticism, and contextual information covering more than 90,000 novelists, poets, essayists, journalists and other writers.
NoveList Plus
Online tool to help readers of all ages find new books to read based on books they've already read or topics in which they are interested.
NoveList Plus K-8
This database focuses on fiction and nonfiction for young readers (kindergarten through 8th grade), with the coverage and searchability of NoveList Plus.
OCLC WorldCat Discovery Services
This brings the FirstSearch® and WorldCat® Local services together. The suite enables you to discover more than 1.5 billion electronic, digital and physical resources in libraries around the world through a single search of both WorldCat® and a central index that represents nearly 2,000 e-content collections.
---
ReferenceUSA
ReferenceUSA helps users create marketing plans, conduct competitive analysis, raise funds and locate people. Offers real-time access to more than 20 Million Businesses, 222 Million Consumers, U.S. New Businesses, and more.
---
Career Transitions
Provides guidance and essential activities for job-seekers and those exploring career options.
LearningExpressLibrary
Online academic and career practice tests. Areas covered include SAT preparation courses, SAT practice exams, civil service, GED, law enforcement, military, postal services, real estate, U.S. citizenship, and more.
Testing and Educational Reference Center
Provides users with in-depth information on colleges and universities, graduate and professional programs, distance learning, corporate training, available scholarships and awards, preparatory entrance tests and more.
---
Enciclopedia Estudiantil Hallazgos
Beginner's Spanish-language reference tool. The site offers World Book's editorial content, rich media, and engaging features in Spanish.
---
Ancestry Library Edition
In-library use only. Covers United Kingdom and US extensively with census, vital, military, court and immigration records. Also has record collections from Canada, Europe and other areas.
Genealogy Connect
Includes hundreds of authoritative resources, covering genealogy best practices, research methods, and much more.
---
General OneFile
Search periodicals, newspapers, reference books and multi-media sources on the humanities, education, environmental issues, technology, health care, politics and more.
InfoTrac Newsstand
Provides access to more than 1,100 major U.S. regional, national and local newspapers as well as leading titles from around the world?.
PowerSearch
This provides single-search access to almost all of the library's Gale content. It helps researchers save time through a streamlined common user interface that can be customized to match skill levels and habits.
World Book Advanced
More than 1.3 million pages of primary source documents - books, documents, selections - fully integrated with the encyclopedia content. Research and teaching tools include timelines, citation builder, and saved research.
World Book Timelines
World Book Timelines offers hundreds of pre-generated timelines across eight broad topics, which cover various time periods in history or span the life of historical public figures.
---
Powerspeak Languages
Focusing on the most popular languages being studied today, Powerspeak features a combination of scored online activities, exercises, lessons, and games.
---
HeinOnline
Legal research database with articles from more than 800 journals. U.S. Treaties and Agreements, U.S. Supreme Court decisions, U.S. Statutes at large, and much more.
Legal Forms
Includes official legal forms enabling users to create their own legal documents.
---
Kids InfoBits
Thousands of age appropriate articles, eBooks and images, designed for grades K-6.
NoveList Plus K-8
This database focuses on fiction and nonfiction for young readers (kindergarten through 8th grade), with the coverage and searchability of NoveList Plus.
World Book Early World of Learning
A wealth of resources to help preschoolers and children in the early grades grasp critical early childhood themes.
World Book Kids
Based on World Book's award winning Student Discovery Encyclopedia, World Book Kids is designed to give younger students a rewarding online learning experience. Includes thousands of easy-to-read articles, engaging images and illustrations, interactive games and activities, and teacher resources.
World Book Student
World Book Student includes all the articles from the print versions of the World Book Encyclopedia, plus thousands of additional articles, learning resources, and research tools.
---
Biography in Context
Biographies on more than 500,000 people from throughout history and around the world.
Global Issues in Context
Features hundreds of country portals for analysis of social, political, military, economic, environmental, health and cultural issues.
NoveList Plus K-8
This database focuses on fiction and nonfiction for young readers (kindergarten through 8th grade), with the coverage and searchability of NoveList Plus.
Opposing Viewpoints in Context
An online library of current event topics--facts and arguments for and against each topic.
Science in Context
Detailed information for science assignments and projects, including articles, biographies, videos, overviews and experiments.
Student Resources in Context
Explore information from science, literature and history through reference books, newspaper and journal articles, video and audio files.
U.S. History in Context
Information on US history from primary sources and reference documents, including photographs, illustrations and maps.
World History in Context
Search a broad collection of reference works and primary documents covering the events, movements and individuals that have shaped world history.
---
Academic OneFile
Articles and abstracts from scholarly, trade and general-interest periodicals in current events, science, social science, art and the humanities.
What's so special about library databases?
Subscription databases provided through your library give you access to thousands of reference books, magazines, and journals that may not be available locally.
Whatever your interests or research needs, these powerful tools put trustworthy information at your fingertips, 24/7.
Along with research tools, your library offers databases to help with car repair, language learning, test preparation, and more.