The Elfrida Library offers browsing, circulation, copy and fax services, public computer access, and toys and games for use on-site and for check-out. Appointments are not required. Masks are encouraged.
The library continues to offer a range of services outside the building, including curbside pickup for at-home COVID tests and library materials, by appointment.
Library wi-fi is available outside the building from 6 am to 8 pm daily, and the library has laptops available for outside use, by appointment. Library ebooks and digital materials are available 24/7.
If you have questions, please call 520-642-1744 or email rwilce@cochise.az.gov.
For COVID-19 information, please visit the COVID-19 Resource page.
aaa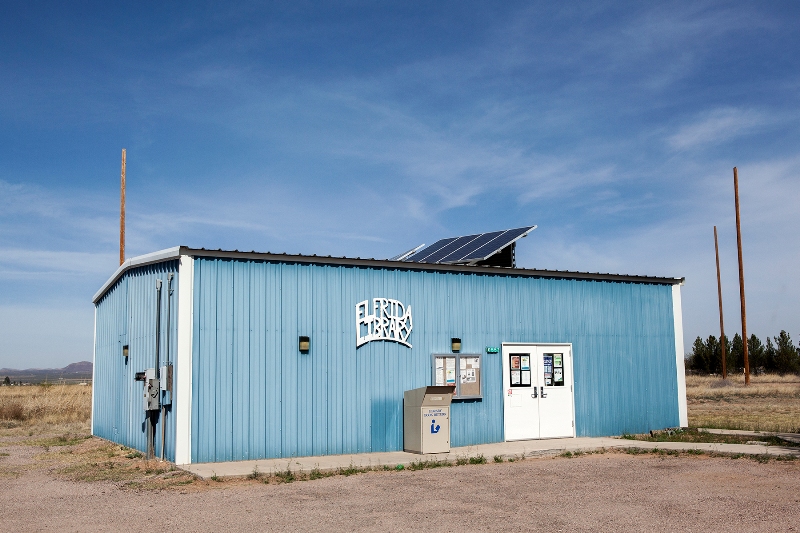 The Elfrida Library is a branch of the Cochise County Library District.
The library offers a wide selection of library materials for all ages, in English and Spanish. The library provides access to items from other public libraries across Cochise County, and hosts special programs for children and adults.
The Branch Manager is Bekah Wilce.
Some books you might like:

https://cochiselibrary.org/client/rss/hitlist/test/qu=%22NEW-ELFRID%22&rt=false%7C%7C%7CBOOKLIST%7C%7C%7CFeatured+Items&te=ILS

https://cochiselibrary.org/client/rss/hitlist/test/qu=%22ELFEATURE%22&rt=false%7C%7C%7CBOOKLIST%7C%7C%7CFeatured+Items&te=ILS
Elfrida Library
P.O. Box 98
10552 N. Hwy. 191
Elfrida, AZ 85610
520-642-1744
---
| | |
| --- | --- |
| Monday | Closed |
| Tuesday | 11 am - 7 pm |
| Wednesday | Closed |
| Thursday | 9 am - 5 pm |
| Friday | 1 - 5 pm |
| Saturday | 2 - 6 pm |
| Sunday | Closed |
---